KBFA25ERSS01 KitchenAid Refrigerator - Overview
Sections

of the KBFA25ERSS01

[Viewing 8 of 8]
Manuals & Care Guides

for KBFA25ERSS01

Click to download
Keep searches simple, eg. "belt" or "pump".
Questions And Answers

for KBFA25ERSS01
We're sorry, but our Q&A experts are temporarily unavailable.
Please check back later if you still haven't found the answer you need.
2 questions answered by our experts.
Search filter:
Clear Filter
Your search term must have 3 or more characters.
Keep searches simple. Use keywords, e.g. "leaking", "pump", "broken" or "fit".
Sorry, we couldn't find any existing answers that matched.Try using some different or simpler keywords, or submit your new question by using the "Ask a Question" button above!
Temperature keeps rising alarm going off but fridge cold
For model number KBFA25ERSS01
Hello Mike, Thank you for the question. If the compressor is running normally, we suggest testing the Thermistor. The resistance of the thermistor in the unit should be 2.7K ohms at 77 degrees. If the Thermistor is good, you can test the Defrost Thermostat. You can let the sensor warm up to room temperature. With the sensor warmed up to room temperature the sensor should read approximately 6.2K Ohms at 68°F. With the thermistor submerged is a glass full of ice water, the sensor should be very close to 32°F which should read approximately 16.3K Ohms. If the values that you are getting are far off from these readings, then the sensor is bad and should be replaced. If you need help placing an order, customer service is open 7 days a week. Please feel free to give us a call. We look forward to hearing from you!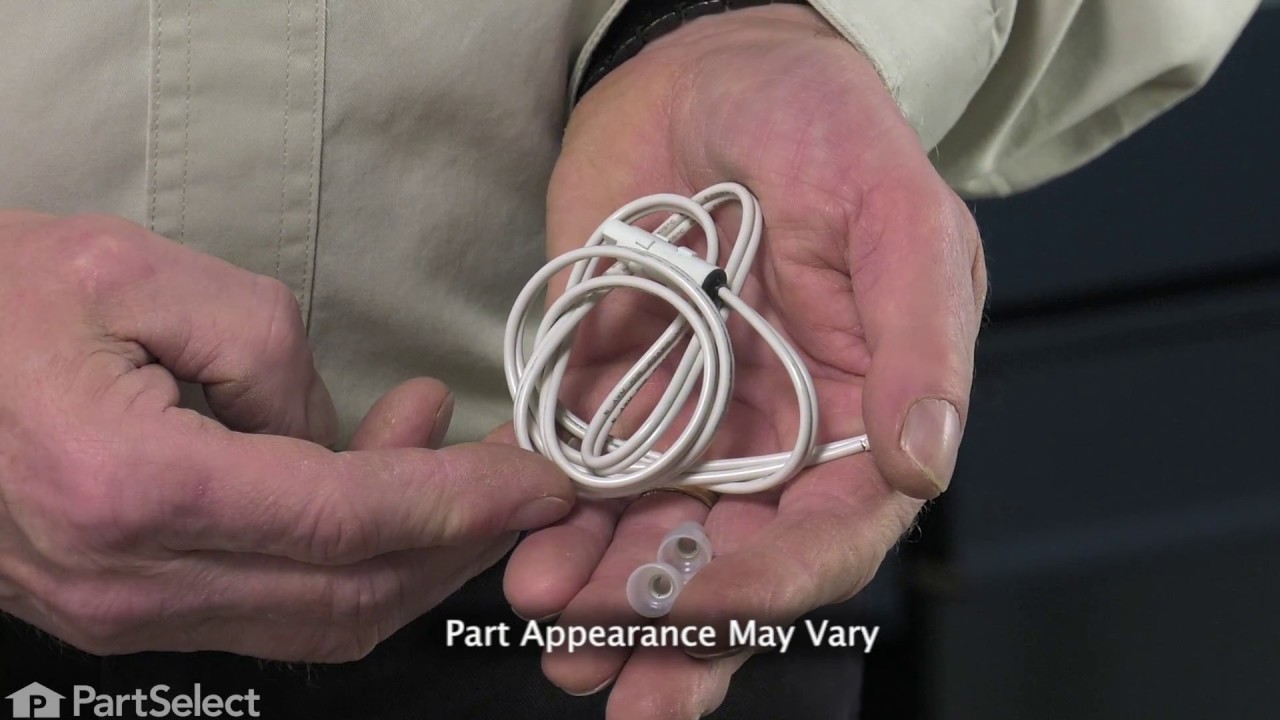 Related Parts:
Additional Links:
ice maker is releasing ice cubes but then some ice cubes start to form a block of ice do I need a new ice maker installed
For model number KBFA25ERSS01
Hello Darryl, thank you for your question. There can be several reasons. Frequent opening and closing of the door can allow warm air to cause condensation allowing the cubes to eventually form clumps. Or, ice particles can build up in the ice bin and can cause clumping. The ice bin should be cleaned with water and a soft cloth. We hope this helps.
Common Symptoms

of the KBFA25ERSS01

[Viewing 23 of 23]
Keep searches simple. Use keywords, e.g. "leaking", "pump", "broken" or "fit".
light on to order water filter
Pressed in the end of the filter cover, lowered it down part way. Twisted the old filter 1/4 turn and removed it. Set in the sink to drain. Inserted new filter and twisted it to lock. closed cover. Done. Total time @ 1 Minute.
Parts Used:
Difficulty Level:

Really Easy

Total Repair Time:

Less than 15 mins
884 of 981 people
found this instruction helpful.
Was this instruction helpful to you?
Icemaker producing few or no cubes and often leaving "kling-ons" on ice tray
Interior surface of ice tray felt rough & flaky (coating deteriorated) so cubes would not release.
Unplug appliance.
Remove timer cover by hand pressure @ edge.
Remove single attachment screw & bracket at lower front of icemaker.
Disconnect wiring harness from socket @ rear of compartment.
Tricky part was determining what type of connection held the other two attachment points along the long edge of the icemaker. I did not have repair manual or useful drawing but looked @ PartsDirect pic of side brackets & used a small mirror to confirm that mine were also some sort of "snap in" attachment.
Remove icemaker unit by pushing upward and outward on the unit. I takes a good bit of pressure and will pop loose, but be careful not to break attachment bracket from freezer wall.
Scavenge shut off bar and wiring harness from old icemaker once you have it out & attach to new one before installing it back in freezer.
Again, you might find a mirror useful to align those pesky snap-in brackets with the new unit.
Since you probably kept your freezer running while waiting for the part, the plastic snap-ins will be cold and brittle. I warmed them up first by applying a dampened cloth heated in the microwave to make them a little more pliable.
A good push of the new unit towards the snap-ins along with some upward force will get it stable.
Reattach the metal screw in bracket & connect the wiring harness to rear plug... and don't forget to plug the whole thing back in.
It will take awhile for the first batch of cubes dump as the timer may need to cycle completely around to get to the fill cycle... be patient.
Dump the first couple of batches of cubes just to make sure you're free of any residue.
Parts Used:
Bernie from Diamond Bar, CA

Total Repair Time:

30 - 60 mins
790 of 867 people
found this instruction helpful.
Was this instruction helpful to you?
Ice maker leaking at first then quit making ice all together
unplugged refrigerator and shut off water, removed one screw and loosened two more, after removing one side of the ice bucket rail, unplugged electrical from old ice maker. Then I removed the bail and out on new one, reinstalled ice maker in reverse order from taking it out.
Parts Used:
Difficulty Level:

Really Easy

Total Repair Time:

15 - 30 mins
423 of 478 people
found this instruction helpful.
Was this instruction helpful to you?