ADE7005AYW Admiral Dryer - Overview
Sections

of the ADE7005AYW

[Viewing 6 of 6]
Manuals & Care Guides

for ADE7005AYW

Click to download
Keep searches simple, eg. "belt" or "pump".
Questions And Answers

for ADE7005AYW
We're sorry, but our Q&A experts are temporarily unavailable.
Please check back later if you still haven't found the answer you need.
1 question answered by our experts.
Your search term must have 3 or more characters.
Keep searches simple. Use keywords, e.g. "leaking", "pump", "broken" or "fit".
Sorry, we couldn't find any existing answers that matched.Try using some different or simpler keywords, or submit your new question by using the "Ask a Question" button above!
Took apart to replace the belt. Now a rubber or foam round gasket came off from somewhere. It's about 65inches long.
For model number ADE7005AYW
Hello Robert, thank you for contacting us. That part is a cylinder felt seal, part number PS11741917. We have attached a video for the installation of your part, it may help you fix it. We hope this helps.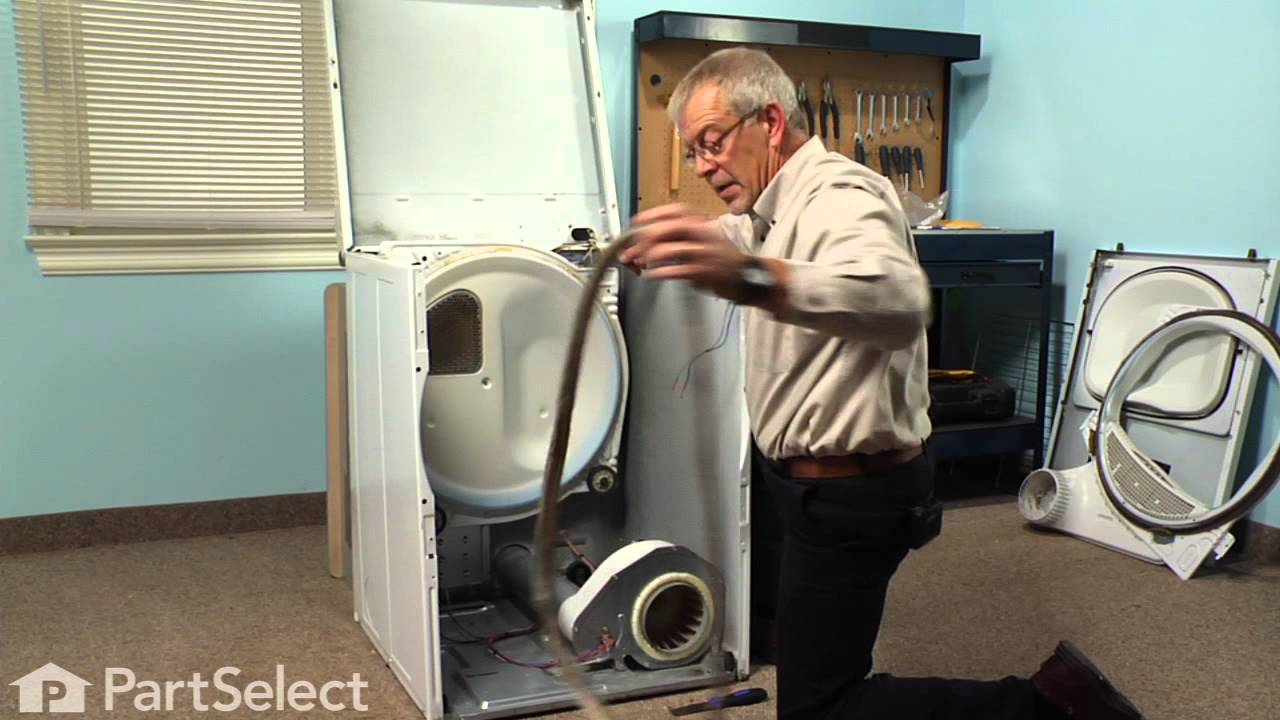 Common Symptoms

of the ADE7005AYW

[Viewing 15 of 15]
Keep searches simple. Use keywords, e.g. "leaking", "pump", "broken" or "fit".
Drum not centered , clothes getting stuck in dryer
The first thing I did was to unplug the dryer from the wall. Then I removed the bottom two screws and slid the bottom cover off so i could see all the way to the back, I tipped the dryer back against the wall and searched for the problem with a flashlight. I noticed that one of the guide wheels that held the drum in place was sheared off. I took the new drum support roller out and carefully slid it over the shaft, I had to jiggle it around for a bit, but then it finally was seated correctly. I replaced the washer and then the clip using a pair of needle nose pliers and a regular screw driver and then turned the dryer by hand to see if the wheel came off. After confirming that it worked, I put the cover back on, and plugged it in and tested it.
Parts Used:
Total Repair Time:

15 - 30 mins

Tools:

Pliers, Screw drivers
519 of 536 people
found this instruction helpful.
Was this instruction helpful to you?
The Felt Gasket between drum and door ripped, vent manifold from Dryer to fan and lint screen broken
I pulled the bottom panel and the door panel to replace the manifold and felt gasket around the drum. I removed old gasket very easily, it peeled right off. I use brake cleaning fluid (Spray Can from Auto Zone about $1.45) to remove old glue. Used spray contact cement (Elmer's about 4.50 at Ace) and sprayed the panel and gasket surfaces and let dry. I then applied a 2nd coat and let get "tacky" and installed the gasket. You will need an extra set of hands to hold the gasket in place while you stretch it over the the panel. The vent manifold is held in place with 3 phillips screws and was installed in about 10 minutes. The only gripe I had was in the Parts-Select illustrated breakdown they don't tell you the lint screen comes with the manifold assembly, so I bought one of them too. Now have an extra lint screen
Parts Used:
Tim from South Glens Falls, NY

Total Repair Time:

30 - 60 mins
497 of 502 people
found this instruction helpful.
Was this instruction helpful to you?
Squeeling and grinding noise
Wasn't the belt!! Changed it anyway. Should have come here earlier. That mistake added several days to the repair waiting for a second batch of the right parts. Became a pro at taking the dryer apart and reassembling, though! Easy job, just take your time and mark your wires, if you need to.
Followed other people's excellent instructions. Clean out all the dust bunnies. Schematics were a great resource. Those and the prices made me a repeat customer.
The shaft of the Idler Lever wheel was the cause, but decided, since I had it apart, to spend a little more money and replace both Drum Support Rollers and the Roller Bracket and Shaft Assembly. They showed some wear, and the parts were very inexpensive. Make sure you have snap ring pliers with prongs that are smaller than the standard 0.40 to save some aggravation with the Drum Rollers. $5 tool. Total parts were less than $60. Probably saved $150+ in labor. Quieter than ever now. Thanks!
Parts Used:
Steven from Holderness, NH

Total Repair Time:

1- 2 hours

Tools:

Screw drivers, Socket set
479 of 493 people
found this instruction helpful.
Was this instruction helpful to you?