Replacement Ice Maker
$
113.35
In Stock
Get this part fast. Average delivery time via standard shipping: 1.8 days.
PartSelect Number
PS358591
Manufacturer Part Number
4317943
Manufactured by
Whirlpool
Product Description
Replacement Ice Maker Specifications
This ice maker (Complete Icemaker Assembly, Whirlpool Icemaker Kit, Ice Maker Assembly, Refrigerator Ice Maker, Icemaker) receives water from the water inlet valve, freezes it, and dispenses it into the ice bucket until the bucket is full. Ice makers will need to be replaced every 3-10 years depending on the frequency of usage, and water quality. You can perform a voltage test with a multimeter or perform an inlet valve test. If you're unable to make ice, or notice leaks then it may be a sign your ice maker is damaged and could be in need of a replacement. This model measures approximately 11x5 inches, is constructed of plastic and metal, and comes in black/silver. This ice maker is a complete assembly; the whole assembly attaches to the wall of your freezer.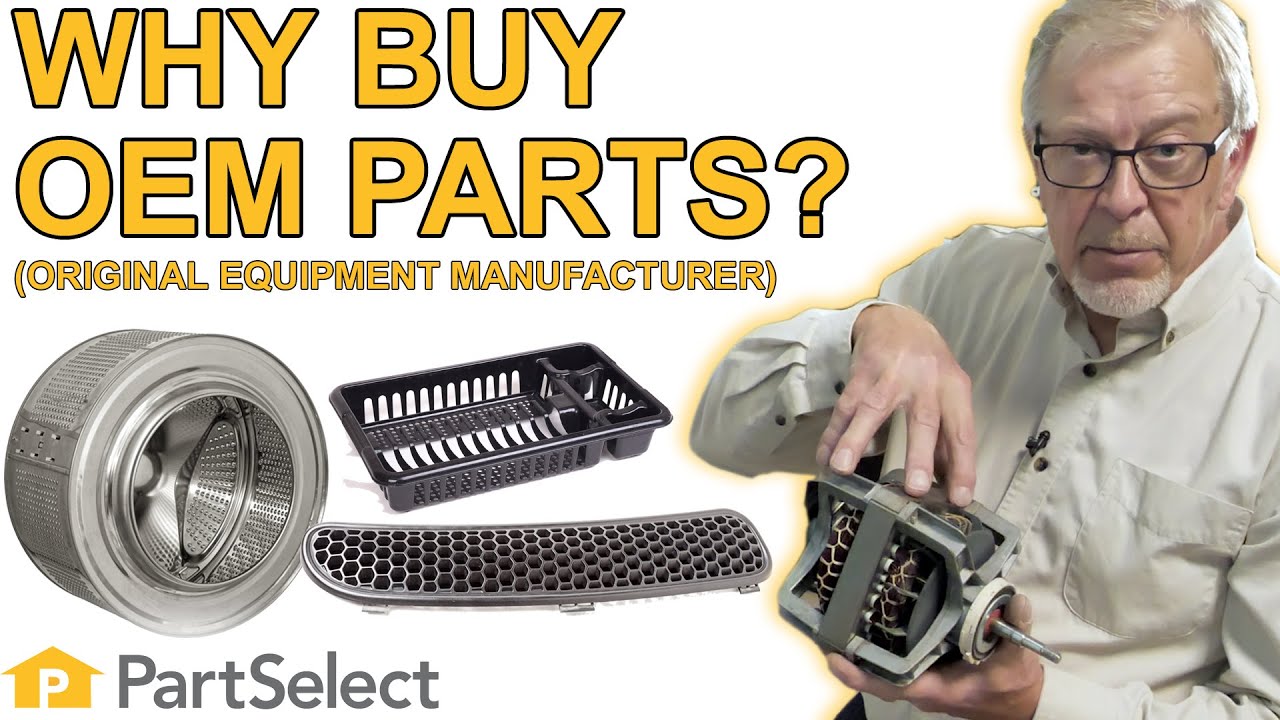 How Buying OEM Parts Can Save You Time and Money
Troubleshooting
This part fixes the following symptoms:
Ice maker not making ice | Leaking | Ice maker won't dispense ice | Ice maker dispenses too little ice
This part works with the following products:
Refrigerator, Ice Maker.
This part works with the following products:
Kenmore, Whirlpool, KitchenAid, Roper.
Part# 4317943 replaces these:
AP2984633, 1857, 4317943, 4210317, 4211173, 4317943, 4317943R, 4317943VP, 46000978556, 46004211173, 480616, 480617, 482014, 482015, 482016, 482017, 482018, 482019, 482020, 482394
... Show more
, 482433, 482990, 625601, 625603, 625610, 625611, 625622, 625625, 625653, 625656, 625660, 626002, 626201, 626237, 626366, 626461, 626489, 626608, 626609, 626626, 626636, 626640, 626670, 626687, 627572, 68972-4, 797991, 8114, 833701, 978552, 978553, 978556, 99989730, M626687, W10122496, W10190952, W10281545, W10632400 Show less
Questions and Answers
We're sorry, but our Q&A experts are temporarily unavailable.
Please check back later if you still haven't found the answer you need.
62 questions answered by our experts.
Your search term must have 3 or more characters.
Keep searches simple. Use keywords, e.g. "leaking", "pump", "broken" or "fit".
Sorry, we couldn't find any existing answers that matched.Try using some different or simpler keywords, or submit your new question by using the "Ask a Question" button above!
Ice maker is not making ice. It does not appear water is going into the tray area, yet water is coming into the refr. As you can still use the water glass fill, at the door. I could always order a new ice maker, but hate to do same, removing and installing a new one and finding the problem is elsewhere. Help!
For model number ed2chqxkq05
Hello Alan, thank you for contacting us. That sounds like it would be the icemaker control assembly. This part controls all the ice maker functions as well as the solenoid which controls the water flow to the ice maker. When this fails you will still get water to the dispenser as the water inlet valve still works properly. Hope this helps!
47 people found this helpful.
Related Parts:
Rudy Burger
December 5, 2017
How do i set the water level in my ice maker
For model number 4317943
Hello Rudy, Thank you for your inquiry. The ice maker has an adjustment screw that needs to be turned to set the water level. Remove the cover of the icemaker. The adjustment screw is on the right side of the control module. Turn the screw clockwise to reduce the water level, but no more than 2 complete revolutions. Hope this helps you!
17 people found this helpful.
Ice maker does not shut off when arm is lifted
For model number KTRA22EMSS04
Hi John, Thank you for your inquiry. You would have to replace your icemaker to fix this issue. Good luck with your repair.
7 people found this helpful.
Kenneth Miller
February 10, 2018
How long dose it take this ice maker to fill tub
For model number whirlpool 4317943
Hello Kenneth, Thank you for your inquiry. It can take about 24 hours for it to start producing ice, and since it usually dumps around every 1-2 hours, it can take 24 to 48 hours to fill the ice bin depending on the side. Hope this helps!
6 people found this helpful.
My ice maker stopped producing ice. I thought it had to do with the arm not initiating the ice making mechanism, as i believe i tinkered with it a bit and it worked for a little bit more. Also i just realized there is no water coming out of the water dispenser (it has always been pretty low flow, perhaps a filter issue). Any suggestions? Do i just get the replacement ice maker or could the issue have to do with water?
For model number Whirlpool ED5HEXNB00
Hello Cameron, thank you for your question. It sounds like you may have a water flow issue. If the water is slow to the dispenser, and the icemaker wasn't work, then was tinkered with and worked for a bit more the water may not be coming into the icemaker enough to make the ice. I would suggest replacing the Water Inlet Valve Part Number: W10408179 and perhaps the filter, if it hasn't been changed in a while. If the issue continues with the icemaker, we would recommend testing the icemaker to determine if its an issue with the motor module, which is basically like the timer for the icemaker. It calls for ice, allows the water to freeze, activates the dump cycle then calls for more water. I hope this helps!
6 people found this helpful.
Cynthia
September 16, 2019
Ice maker makes the ice but won't dispense it. Then it turns the ice in the ice maker to become a solid iceberg. Could this be the points and/or the module? Help!
For model number ED25DQXAW00
Hello Cynthia, Thank you for the question. I suggest removing the Ice Bin and check it over for any damaged parts. Also make sure there is no ice build up preventing it from dispensing ice. If the parts are all good but the dispenser motor in the ice bin is not working to turn the auger, it may need to be replaced. PartSelect Number PS11739113. Hope this helps!
6 people found this helpful.
Related Parts:
Hi - the part to my icemaker that guides the water into the dispenser is broken in the sense that the plastic detached from the holder, but I can and have manually put it into its proper place and it continued to work. I think my husband knocked it loose and then water went all over the insides of the freezer. I was worried that something inside was broken because I found a bit of water on the floor. I'm sorry to say i have a very dirty water filter that needs replacing. Could a dirty filter cause a water backup problem? Additionally, the water pan under the refrigerator does not have any water in it, but when I looked in there today, after I had shut off the water supply to the refrigerator, there was something that resembled black dirt in the tray. I wondered if there would be any sort of rubber or spongy material insulating anything that could have crumbled into the tray from being dry or frayed from age? Thanks for any direction with this!
For model number KSCS25FJSS01
Hi Cathy, Thank you for the question. The inlet tube just pushes into place so it may have just been bumped.If you were able to reinsert it and it is working then you will be fine. If the filter needs to be replaced the water flow will be slow or stop and it can cause a leak. The dirt in the tray could just be dirt. The fan helps evaporate the water in the try so it is normal not to see water sitting in the tray.There is no foam or filter in the tray to absorb or insulate. Hope this helps!
5 people found this helpful.
I'm having problems with ice maker or in that area. What tells the water to shut off after it fills tray, is there a sensor in ice maker? The problem is water is not shutting off sometimes and makes a frozen waterfall in freeze (what doesn't hit the hardwood floors) thank you
For model number jrsd2490t
Hi Terry, Thank you for your question. There would be two parts that could cause this issue. It is either the ice maker is calling up too much water, or the water inlet valve is sending up too much water. I would suggest testing your water inlet valve first, to make sure it is not malfunctioning. If that part is fine then it would be your ice maker that is the problem. I hope that helps. Good luck with your repair.
5 people found this helpful.
How can i adjust the water into my ice maker?
For model number PS358591
Hello Rudy, that is a great question. The ice maker control board would have a solenoid in it, this controls the water flow to the ice maker to keep it from over flowing. Hope this helps!
4 people found this helpful.
Ice maker 4317943 stopped making ice. I get water from dispenser and also when I close the circuit on the module so I think the water valve is ok. The tray and heater are in good shape. The strange thing is if I fill the tray with water eventually it will make cubes. Also the thermostat test ok. I replaced the module and no change. Any thoughts?
For model number 106.57071791
Hello Gerard, Thank you for the question. The Valve has 2 ports, for the ice maker and the water dispenser. It is possible the Valve could be defective. You can check with a multi meter to see if there is power going to the water valve when the icemaker cycles. Please see the link below for help testing a Water Valve as well. We hope this helps. https://www.partselect.com/Refrigerator+test-water-valve+repair.htm
3 people found this helpful.
Part Videos
Repair Tip:
To remove the shut off arm from your existing icemaker, lift the arm to the up position, unhook it from the fill cup bearing, and pull it out of the module. If you require the shutoff arm for your new replacement ice maker, be sure to order the replacemen
Replacing your Kenmore Refrigerator Replacement Ice Maker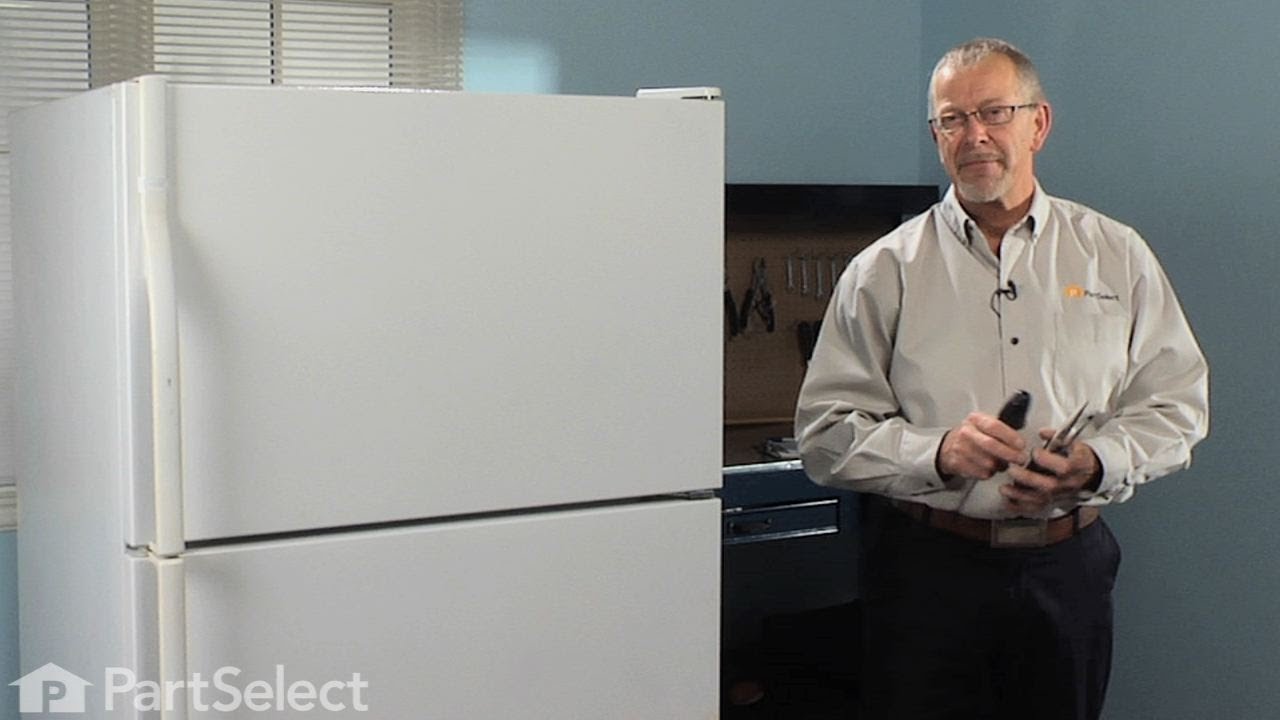 How to Troubleshoot a Refrigerator That Doesn't Make Ice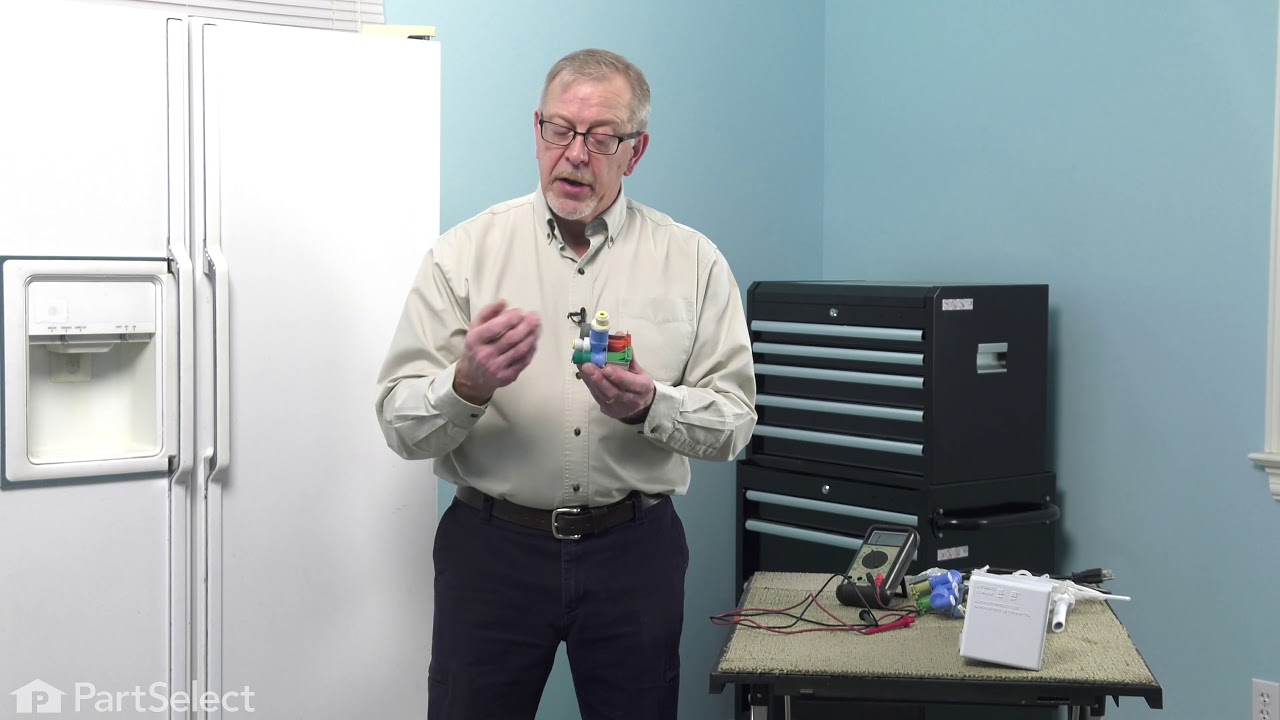 How Does an Ice Maker Work?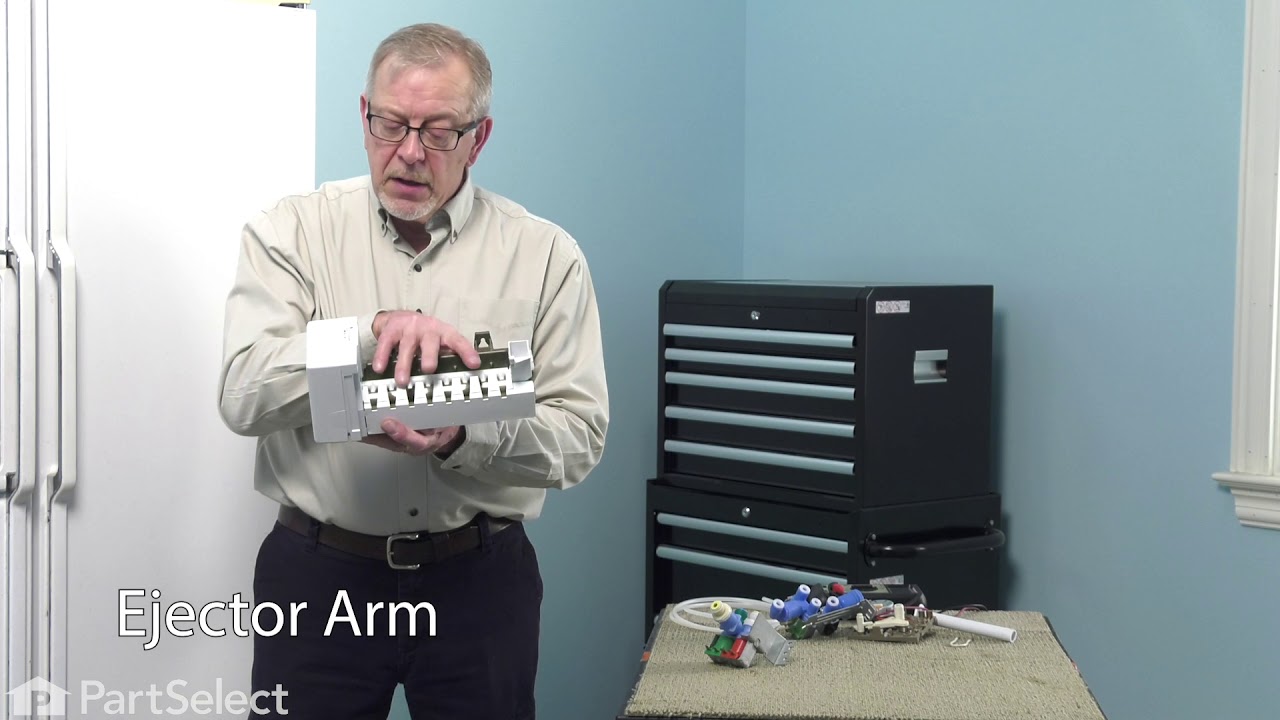 How to Troubleshoot an Ice Maker That is Not Working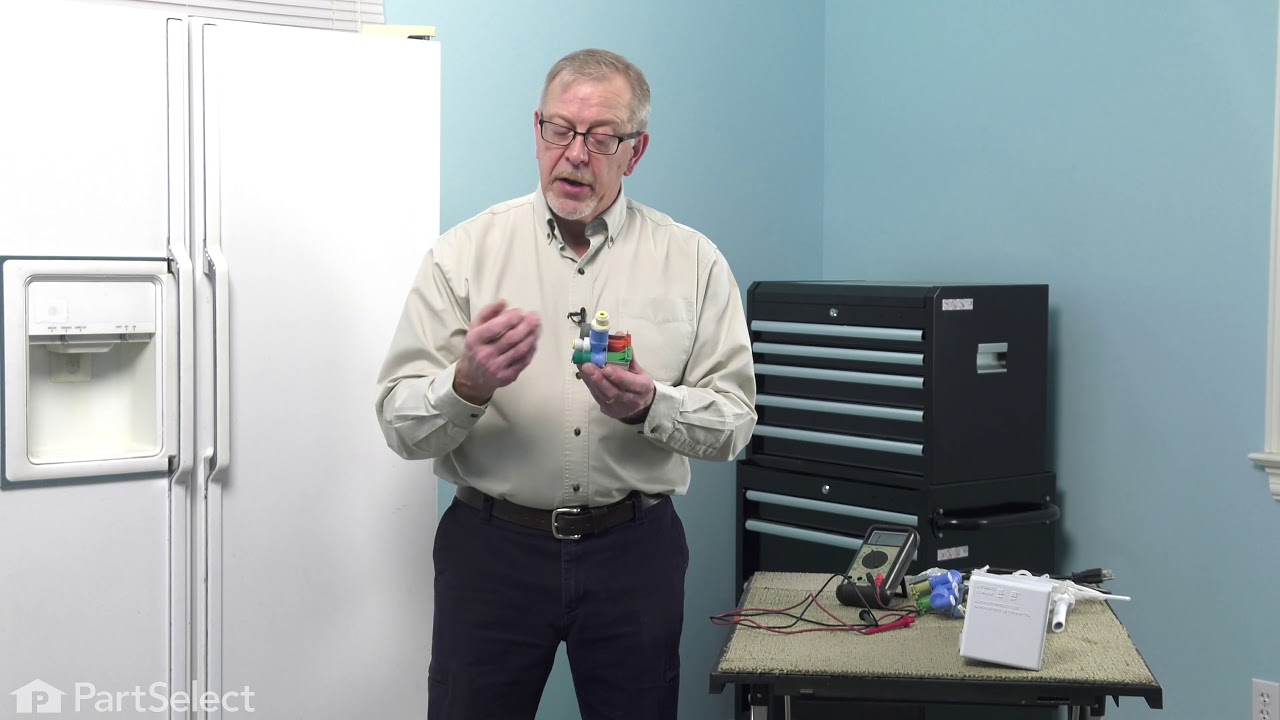 Test If Your Electrical Part is Failing - Multimeter Tool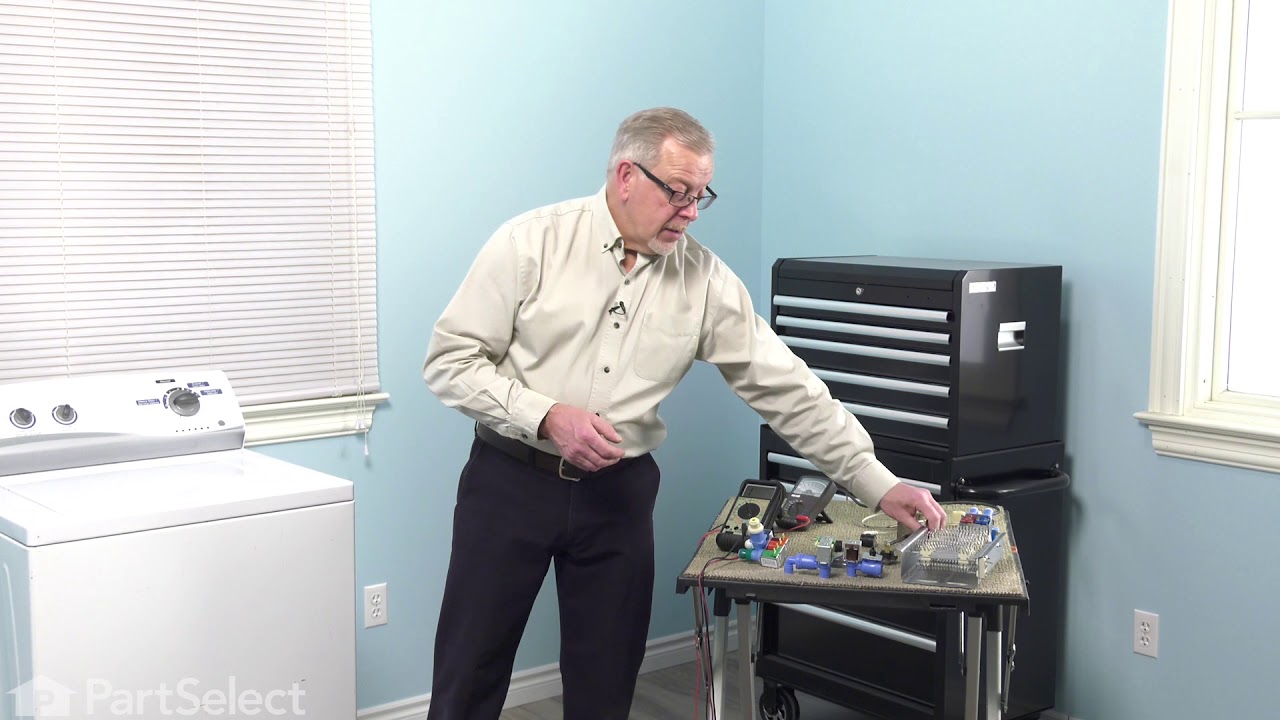 Customer Repair Stories
Your search term must have 3 or more characters.
Keep searches simple. Use keywords, e.g. "leaking", "pump", "broken" or "fit".
Sorry, we couldn't find any existing installation instruction that matched.
Customer Reviews
Filter By Rating:
5 Stars

139

4 Stars

16

3 Stars

2

2 Stars

1

1 Star

4
Your search term must have 3 or more characters.
Keep searches simple. Use keywords, e.g. "leaking", "pump", "broken" or "fit".
Sorry, we couldn't find any existing reviews that matched. Try using some different or simpler keywords.
Verified Purchase
No problem
Installed in 15 minutes and was making ice a short time later!
Verified Purchase
Not working
For that price I would have thought it would come with arm, unit has been in for a week & a half and it hasn't made one ice cube yet.
4 days ago
Hi Thomas, Thank you for your review. Please accept our apologies for this situation. We will be in touch with you shortly regarding your order.
Donald G
- August 29, 2021
Verified Purchase
Review
Part worked perfect just did not have correct wiring harness adapters. But took the one from refrigerator. And made it work
Shaun W
- August 27, 2021
Verified Purchase
Ice block
Well the Parr was suppose to be delivered 2 day shopping. It took almost two weeks for part to arrive. As far as part goes it was an identical ice maker there were some differences one being where the water line comes into ice maker . Old unit had a white receptcal to accept hose and it had a hole in middle of little bucket . The new parts hole was on the outside of little bucket . Locationof hole would allow water to eep out so I plugged the hole and it was just fine.and the biggest problem. Was they sent 4 connectors which were already to go for certain situations. But I needed a longer one longer then the longest one they sent . I got lucky and th terminals matched up and I wa able to use existing plug. But had the end been different it would not have worked.. the part is now in the fridge making vibes not blocks of ice .but a return of the 2 day shipping cost would be nice that's all.
Verified Purchase
Easy repair
Just want I need to fix my ice maker problem. Took 10 mins or so to replace. So easy
Verified Purchase
Plug and play
Installed the new cuber and two hours later there was ice.
Roger S
- August 17, 2021
Verified Purchase
As advertised. Will do business again.
The part(s) were exactly what I needed, and everything was relatively simple to do the repair. Following all available instructions, I was rather proud that the repair and replacement went as easily as it did. All associated parts that I've ordered worked exactly as they were designed to do, and I appreciate the efficiency of this merchant in providing the necessary parts to get the job done correctly. Thank you. We will surely do business again.
Verified Purchase
Easy repair after I made it work
The replacement ice maker works. I had to re-use the old wire harness because the ones that came with it (pictured) would not work on my old fashioned Maytag side-by-side. I think it sucks that the teflon coating wears off and you have to replace the whole ice maker.
James H
- August 14, 2021
Verified Purchase
Just what I needed.
I got it quickly and installation was a breeze. I was making ice in no time.
Harley S
- August 9, 2021
Verified Purchase
All was well.
Mo problems.
Model Cross Reference
This part works with the following models:
PartSelect Number:
PS358591
Manufacturer Part Number:
4317943
Brand
Model Number
Description