79640272900 Kenmore Washer - Overview
Sections

of the 79640272900

[Viewing 3 of 3]
Manuals & Care Guides

for 79640272900

Click to download
Keep searches simple, eg. "belt" or "pump".
Questions And Answers

for 79640272900
We're sorry, but our Q&A experts are temporarily unavailable.
Please check back later if you still haven't found the answer you need.
5 questions answered by our experts.
Search filter:
Clear Filter
Your search term must have 3 or more characters.
Keep searches simple. Use keywords, e.g. "leaking", "pump", "broken" or "fit".
Sorry, we couldn't find any existing answers that matched.Try using some different or simpler keywords, or submit your new question by using the "Ask a Question" button above!
Makes loud squeaky sound during agitation cycle, no noise in the early cycle Or the spin cycle. Thought it was the belt but apparently there is no belt.
For model number 79640272900
Hi Frank, thank you for reaching out. Based on our understanding of the issue, you need to check the rear tub bearing, part number PS11711138. We hope this solves your problem!
1 person found this helpful.
Related Parts:
W0nt turn on at all
For model number 79640272900
Hello Barry, thank you for your inquiry! Our research indicates that the issue is probably with the Door Lock Assembly, part number PS3533609. If that is not the problem or if you have already fixed that, then the problem would be related to the Noise Filter Assembly, part number PS3528920. Customer service is available 7 days a week if you need help placing an order. Glad to be of assistance!
Related Parts:
When I turn the washer on and start the cycle it makes a loud whining noise as tub begins to turns. It then shuts down and displays LE on the screen. What could be causing this problem?
For model number 79640272900
Hello Johnny, Thank you for your inquiry. The LE error code means that the motor in your washing machine is locked. This can be caused by an overloaded washer, try a smaller load and see if you still get the error, or it could be cause by debris stuck between the drum and tub. It could be also be caused by an issue with rotor or rotor position sensor. Check the magnets inside the rotor to see if they are stripped or missing, and check the sensor inside of the rotor assembly for any visible damage or loose connections. Good luck with your repair.
Related Parts:
Getting OE code
For model number 79640272900
Hello Gary, thank you for your question. The error code "OE" shows that water in the washer drains slowly or not at all. The issue might be due to the following parts: the drain pump, part number PS3579318, the drain hose assembly, part number PS3527325, and the drain pump filter, PS3522306. Please check and make sure that the drain hose is free of clogs, clean the drain pump filter, and that the drain pump is not damaged. If you found any component to be faulty, replace that component with its part number available at our site. We hope this solves your problem!
Related Parts:
Why does my washer stop in mid cycle?
For model number 79640272900
Hello Rory, thank you for your question. Please ensure that the washer is getting water uninterruptedly and the water inlet valve is good. Given that the water supply is continuous, the most probable cause is a faulty door lock switch, part number PS3533609. If the washer door is not latched shut, the door switch prevents the washer from operating and the washer may stop mid-cycle. We look forward to hearing from you if you need assistance with placing an order through our 7-days-a-week customer service. We hope this helps!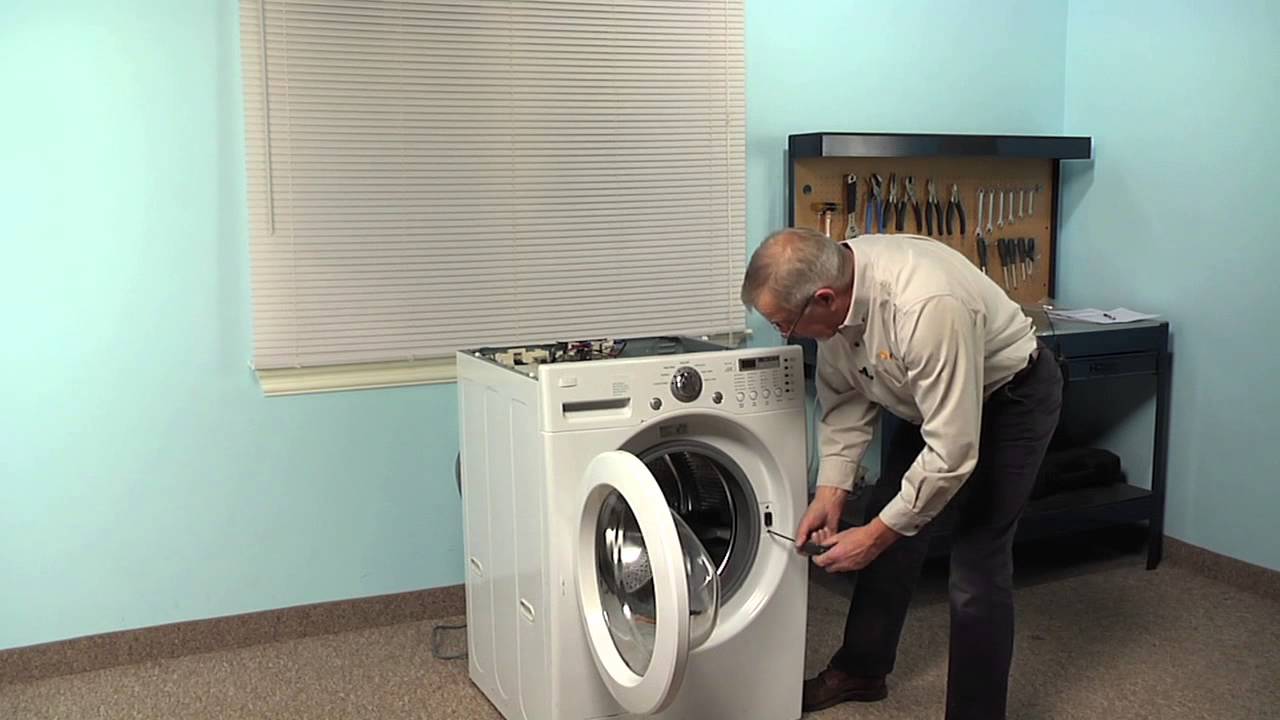 Related Parts:
Common Symptoms

of the 79640272900

[Viewing 12 of 12]
Keep searches simple. Use keywords, e.g. "leaking", "pump", "broken" or "fit".
Washing maching wouldn't drain
Removed the top of the washer by removing the 4 back screws and 2 small brackets. Then I removed the front panel, this was actually the hardest part, 2 screws and 8 tabs that you pop out carefully from the top of the panel. I only disconnected the power button and was able to rest the panel on top of the washer. The rest of the washer came apart quickly just moving down the front of the washer and removing the door, latch, tub gasket, drain cover. Removing the pump was just a mater of disconnecting the drain hoses, and one clip under the drain assembly. 3 screws attach the drain to assembly to the pump and only 2 wires that are clearly marked. Reassembly is just going back through in reverse order of disassenbly. The best thing about this is that it all comes apart with a standard phillips screwdriver.
Parts Used:
Jorge from Apple Valley, CA

Total Repair Time:

1- 2 hours
552 of 700 people
found this instruction helpful.
Was this instruction helpful to you?
LE Error Message and won't spin drum properly
I first tested the motor per the service manual. I checked the resistance between the terminals of the 3 pin connector. It's supposed to be 5-15 ohms. The motor checked out so I replaced the main electrical board. It turns out that wasn't the problem. After a brief web search I found out that the hall sensor (which is attached to the motor stator) was the likely cause of the failure. I replaced that and everything works great now. And now I have a spare main board in case that ever fails. I also want to mention that I took the time to remove the dispenser box (where the water comes in and is directed to the different cleaning products) and cleaned it with a very strong bleach solution. It got rid of the mildew and funky smell. It seems that the fabric softener caused a lot of mildew to form inside the dispenser directly above the fabric softener tray. The bleach took care of that. This is probably something that should be done routinely to keep the mildew from forming.
Parts Used:
Total Repair Time:

30 - 60 mins

Tools:

Screw drivers, Socket set
228 of 295 people
found this instruction helpful.
Was this instruction helpful to you?
Bearing seal out causing bearings to get wet and very noisy
Watched a short video to figure out to remove panels. After panels were off I removed as much as I could from the inside of the machine. This was not completely necessary however for an extra half hour it made inspection, cleanup and removal of tub housing out the front of the machine much easier. Once out, I split the two halves of the outer basin and sprayed the spider shaft with penetrating oil. Using a brass drift I did have to get a bit aggressive to drive spider shaft out, then I used a heavy metal punch to hammer out the bearings. For those who may not know using brass or a soft metal will keep from damaging reusable parts. At this point it was cleanup time, with dish soap I scrubbed the two halves of the outer basin and the wash basin itself then used emery cloth on the bearing casing and spider shaft. I am a firm believer if u take the time to cleanup properly things go back together much easier. At this point I began to reassemble, replacing tub bearings and seal, the wash basin then putting the two halves of the outer basin back together. I strongly recommend replacing gasket for the halves of the outer basin, for as much as it takes to get there it is money well spent to up the chances of a leak free system. Now with the wash tub back together it was time to reset the tub and hook everything back up. I skipped a lot of steps but if a person pays attention, takes pictures if they have to, even numbers lines with a sharpie it is a very easy repair. Very easy but very time consuming. I am DIY'er, in all I spent about ten hours over two days to do this job. Thus being said I am very particular spent a lot of time cleaning, scrubbing looking at as many wear points and checking for rubbed wires. Hope this helps someone out there, definitely not a strong writer or like doing it. Oh one other thing, I ordered the shocks on the bottom side of wash tub just because I guess not thinking they were bad just thinking I could help tune it up. Was surprised to find the old ones were completely shot, was glad I ordered new ones. After repairs, noise is gone and machine is quiet again. Thank you, your website is very easy to find parts and order.
Parts Used:
Difficulty Level:

Really Easy

Total Repair Time:

More than 2 hours

Tools:

Nutdriver, Pliers, Screw drivers, Socket set
63 of 66 people
found this instruction helpful.
Was this instruction helpful to you?