CNTRL-ELEC
$
81.80
In Stock
Get this part fast. Average delivery time via standard shipping: 1.8 days.
PartSelect Number
PS11722935
Manufacturer Part Number
W10804120
Manufactured by
Whirlpool
Troubleshooting
This part fixes the following symptoms:
Will Not Start
This part works with the following products:
Dishwasher.
This part works with the following products:
Whirlpool.
Part# W10804120 replaces these:
W10375804, W10479765, W10540250, W10588602, W10608630, W10635097, W10671914, W10711374, W10752855, W10756242
Questions and Answers
We're sorry, but our Q&A experts are temporarily unavailable.
Please check back later if you still haven't found the answer you need.
3 questions answered by our experts.
Your search term must have 3 or more characters.
Keep searches simple. Use keywords, e.g. "leaking", "pump", "broken" or "fit".
Sorry, we couldn't find any existing answers that matched.Try using some different or simpler keywords, or submit your new question by using the "Ask a Question" button above!
The dishwasher will not go through all of the cycles. It will fill with water and drain.
For model number WDF310PLAB5
Hi Bruce, Thank you for your question. If the dishwasher is stopping in the middle of a cycle, the issue may be caused by either the door latch, the electronic control board or the heating element. Check to see if you have an adequate water supply. If you are not getting a good supply of water, this could cause the dishwasher not to work properly. Also, if you are overloading the dishwasher this may prevent it from cleaning properly and cause it to shut down. I hope this helps. Thank you and have a great day!
1 person found this helpful.
The unit wouldn't start, nothing lit up. There is power to the dishwasher. I don't see a fuse. I can't match or search part numbers. How can I be certain that I order the correct parts? The control part # is Whirlpool W11100742 REV B.
For model number KDTM354DSS5
Hello Carolyn, Thank you for contacting us. We have researched the model you have provided and have found the part you are looking for is PartSelect Number PS12745077 for the Electronic Control Board. If you need help placing an order, customer service is open 7 days a week. Please feel free to give us a call. We look forward to hearing from you!
1 person found this helpful.
Related Parts:
Dishwasher goes through all the cycles but the heating element dose not work had the heating element and the thermostat checked out both are good
For model number WDF310PAAS1
Hello Melvin, thank you for your question. Check your dishwasher cycle settings. You may have to turn on heated dry. Quick-wash or express wash settings do not include the heated dry cycle to conserve time, meaning you are likelier to have wet dishes when using one of these speedier settings. Inspect the rinse aid dispenser. Energy efficient dishwashers depend on rinse aid for optimal performance. Pour in enough rinse aid until the indicator shows it is full. If there is already enough rinse aid in the dispenser, a buildup of gunk could be preventing the rinse aid from dispensing into the machine during the rinse cycle. To clean the rinse aid dispenser, remove the cap, then set a dishwasher-safe bowl filled with two cups of white vinegar on the top rack of your otherwise-empty dishwasher. Leave the rinse aid dispenser cap off, and run the appliance on the hottest water setting. If these solutions do not solve the problem, it could be the rubber washer, part number PS11743934. We hope this helps. Good luck with your repair.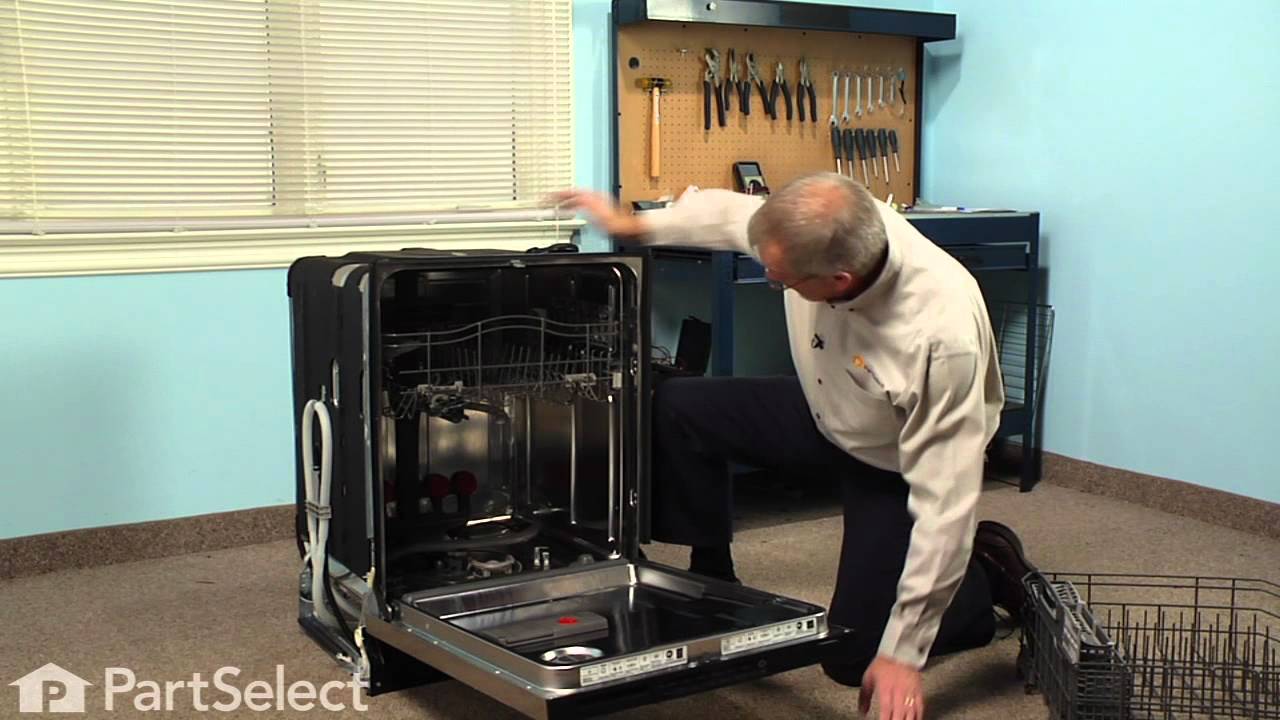 Related Parts:
Model Cross Reference
This part works with the following models:
PartSelect Number:
PS11722935
Manufacturer Part Number:
W10804120
Brand
Model Number
Description